Whether you're just starting out on your non-toxic journey, or you're just looking for more non-toxic items to incorporate into your lifestyle, these just a few of my favorite products that I think everyone should know about!
These items would also make great gifts for family, friends, teachers, co-workers, or really for anyone – who doesn't want to use non-toxic products that are fun to use! Get a wooden crate or a beautiful basket and put several items in, then wrap with clear wrap tied with raffia or a burlap bow.
And don't forget to treat yourself, also!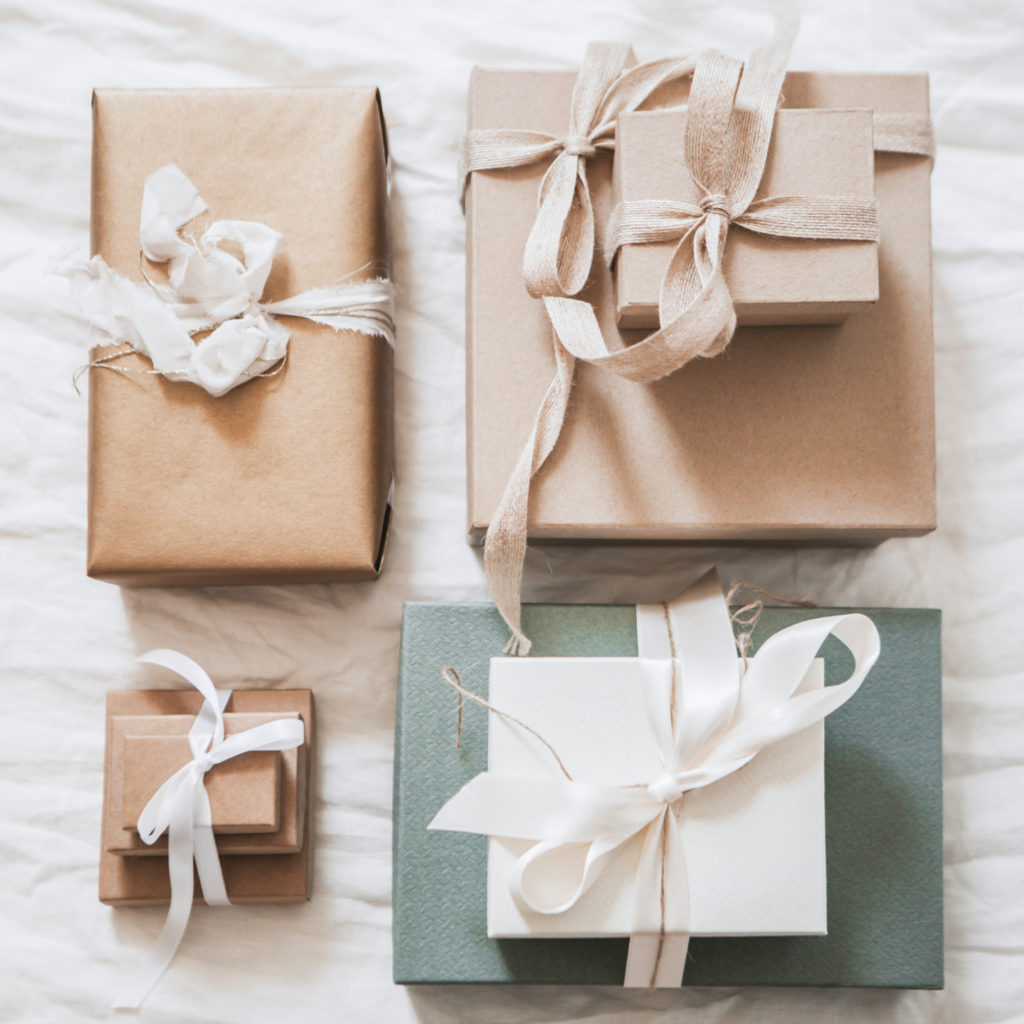 While many of these products can be found on Amazon, with the spirit of this past year and supporting small business being more important than ever, I did not provide any Amazon links.
Instead, click the link for each product and check out the company websites for how to order, or see if they have a  "Where to Find Us" or "Store Locator" on their site if you'd like to see the product in person.
Many of these companies offer discounts, which you may find as a pop-up box on their website that will offer a discount if you sign up for their newsletter (you can always unsubscribe at any time).
*Note: These links are not affiliate links. I am only recommending products that I have carefully vetted, or that I truly use and love.
Happy Shopping!
Health & Wellness
Herbal Inhalation Jar by Clear My Head – One of my all-time favorite unique

gift ideas, this jar's invigorating scent of Eucalyptus, Rosemary,
Lavender Peppermint, Tea Tree, Red Thyme, & Ravensara botanicals and essential oils will not only help keep you alert and refreshed, but is also great for congestion and sinus issues. Simply open the jar lid and breathe in the scent for a few breaths and replace the lid (will last up to 2 years this way), or use in a steam.
Clear My Head Ache Roll-On – Jojoba oil and essential oils of Peppermint and Lavender to help ease headaches. Apply to temples and nape of neck to relieve headaches and tension.
Green Envee – Essential oils, essential oil blends, roll-ons, and aroma mists that are good for everything from relaxation, stress and balance to focus, immunity, and sweet dreams. The perfect gift for the essential oil lover.
Moso Naturals – Toxin-free air-purifying bags that use activated Moso bamboo charcoal, to absorb odors, bacteria, and moisture from the air. Makes a great gift with their holiday design collection.
Low-EMF Hair Dryers – Hair dryers are another item in your home that emit EMF radiation, so using a low-EMF hair dryer can help reduce your exposure. Two brands I recommend are the Low-EMF Hair dryer by CHI and ShieldLife's EMFreedom Low-EMF Hair Dryer.
Phone Soap – UV-C light sanitizing devices that sanitize your smart phone (and other small items like keys and earbuds).
Force of Nature – With sanitizing and disinfecting sprays and wipes so hard to
get our hands on, this is a great non-toxic option. Simply add distilled water to the small device, along with a capsule that contains, salt, water, and vinegar, turns the distilled water into hypochlorous acid (a disinfectant) and sodium hydroxide (a cleaner). Best of all? It's listed on the EPA's List N as a disinfectant specifically approved for use against COVID-19. There's almost too much info to list here, so be sure to check out their website to see how it cleans compared to other cleaners, and how it works.
Use code HEALTHY2021 to get an extra 20% off Year Supply Bundles, plus free shipping
Defender Shield – EMF & 5G Protection for laptops and cell phones.
Personal Care & Beauty
Green Envee – High-potency herbs paired with the perfect plant-based cosmetic actives in their cleansers, masques, serums, moisturizers, lotions, and lip balm. They have a product for every type of skin.
Alitura – Nutrient-Dense, all-natural ingredients, such as freshwater pearl powder and plant-based stem cells. Grab the travel sizes for great stocking stuffers (or to sample for yourself!)
Foaming Hand Soap by Vermont Soap – Organic foaming hand soap. 20% off site-wide (add to cart to apply discount).
Shower Gel by Vermont Soap – Organic shower gel. 20% off site-wide (add to cart to apply discount).
ren jord – Organic, handcrafted, and sustainably made hair care products. Promotes hair growth and relieves scalp issues. A healthy scalp means long, healthy hair!
Cosmetics
100% Pure – Non-toxic skincare and personal care products, and cosmetics made with fruit-dyed pigments.
Annmarie Skin Care– Non-toxic foundations and skincare.
RMS Cosmetics – Non-toxic cosmetics
Nail Polish
These nail polish brands are free of common toxic ingredients such as formaldehyde, acetone, parabens, dibutyl phthalate, and toluene:
Pacifica Beauty  (Having a 50% off sale; the site says "last call" but doesn't give a date when sale ends).
Kitchen
Vitamix Blender – From smoothies to hot soups, nut butters and dressings, this blender can do it all. Well worth the investment, and they even have a "Blender Finder" to help you find your ideal Vitamix.
Lodge Cast Iron – Seasoned cast iron cookware.
Hot Air Popcorn Popper – Popcorn has been named one of the "top foods contaminated with pesticides" by the FDA, and microwave popcorn is not a healthier option. Give the gift of safer snacking with a hot air popcorn popper (look for one like this, and throw in a bag of organic popcorn kernels, such as Arrowhead Mills).
Cali'flour Foods – Gluten-free, low-carb artisan pizza crusts made from cauliflower, and they are available in several flavors including jalepeno, sweet red pepper, and original Italian. They are also amazing when cut and used with dips or to dip in soups!
Soda Stream – Make sparkly soda water at home! A healthier way to beat your soda cravings, and to save money instead of buying flavored soda water. (Because I'm not sure what the full ingredients are for their flavor drops, I recommend flavoring the water with fresh fruit, like oranges or raspberries instead. Or add lemons and limes to taste just like a Sprite!)
Glass food storage containers – Plastic food storage containers can leach chemicals into your food, especially when heated or when warm food is added. To avoid potential hormone-disrupting chemicals, choose a brand such as Pyrex, Corningware, or Snapware. Don't feel that you have to get rid of all your storage containers at once. Choose your top 2 or 3 most used, and replace those first with a glass option. In the meantime, use your plastic containers for storing dry foods, or foods that haven't been heated. Slowly switch the rest out when you can.
Candy
While these are still chock full of sugar, these brands are organic and GMO-free. These are a better option than candy full of artificial colors, but should still be consumed only sparingly.
Yum Earth – Naturally flavored (from fruits and vegetables) candy; Certified organic, Vegan; GMO-free; allergen-free; gluten-free. Also wheat, casein, and dairy-free. Also check out their candy canes (available online and retailers such as Target).
Wholesome! – Organic candy that's also Non-GMO Project Verified, gluten-free, and contains no artificial colors or flavors. Includes gummy bears, sour worms, jelly beans, and DelishFish.
Ocho Organic Candy – Fair trade, gluten-free organic chocolate candies.
Re-Usable Water Bottles
Re-usable plastic water bottles contain chemicals such as BPA and phthalates, which can disrupt hormones in the body, causing problems from sleep issues to thyroid problems, to weight gain, and even cancer.
Life Factory – Glass water bottles, travel coffee mugs, baby bottles, food storage
Klean Kanteen– Stainless steel bottles, insulated bottles, tumblers, food canisters
S'well – Stainless steel water bottles in a variety of unique designs
Non-Toxic Cleaners
Liquid Sunshine Spray & Wipe by Vermont Soap – USDA Certified Organic and made from saponified organic coconut, olive and jojoba oils, essential oils, organic aloe vera and rosemary extract. 20% off site-wide (add to cart to apply discount).
Castile Soap by Vermont Soap – Organic castile soap for a variety of cleaning/personal care product purposes (for ideas on how to use castile soap, click here).
Molly's Suds – Non-toxic laundry detergent and powder, bleach alternatives, wool dryer balls, and stain remover.
How to go Slightly Greener: Replace one or two of your most-used cleaning products at a time. If you'd like to start replacing them before they're used up, check your area's local hazardous waste department, or donate them to organizations who may need them.
Beeswax Candles
I love my candles, but I don't love what I learned when I started researching what they can contain! Wicks can contain lead, and the wax can contain phthalates and other undesirable chemicals and cancer-causers. Look for candles made of beeswax and that contain scents derived from natural sources (avoid the term "natural fragrance" on the label).
How to go Slightly Greener: If you can't bear to part (gulp) with your candles, save them for special occasions only. Burn a less-toxic candle in the meantime. When your favorite candles are used up, replace them with a less toxic version.
Bluecorn Naturals Beeswax Candles – Pure beeswax and beeswax aromatherapy candles
Honey Candles – 100% pure beeswax candles
Beeswax Candle Works, Inc. – 100% beeswax candles
Beehive Candles – Handcrafted 100% beeswax candles
Big Dipper Wax Works – Hand-poured 100% beeswax candles
Pure Plant Home – Coconut wax candles
Dogs
(Most of these companies offer products for cats, also. I'm just more familiar with dog products 😃 ).
CocoTherapy – Certified USDA Organic, Non-GMO coconut oil treats and wellness products that are also hexane-free, unrefined, and non-bleached. Helps with many health functions, such as supporting healthy coats and skin, can help with allergies and hotspots, and can help support healthy digestion.
Northwest Naturals – Raw food that is minimally processed
Answers Pet Food – Fermented raw whole foods, plus treats like quail eggs and chicken feet, or fermented milk.
Real Dog Box – Subscription box for treats and chews; uses real food, such as organ meats, muscle meats, and seafood that are great as treats or as meal toppers.
Vermont Soap Dog Shampoo – safe ingredients and leaves fur so soft
Stella & Chewy's – meal toppers and food
Open Farm Freeze Dried Raw food (also has a cat line)
Honest Kitchen Bone Broth – a great meal topper (also has cat line)
Super Snouts Hemp Company – CBD peanut butter, soft chews, and topical creams for anti-inflmmatory and immune support
Pet Releaf – Hemp-derived CBD treats, soft chews, and oils for anti-inflmmatory and immune support (also has cat line)
Weruva Pumpkin Supplements – Supplemental feeding to help support digestion and add fiber for dogs and cats. Fun products such as Pumpkin with Coconut Oil and Flaxseeds and Pumpkin with Ginger and Tumeric. Also great for upset tummies.  
Bye Bye Dog Breath – Chews and/or powder to keep your dog's teeth clean. Contains ingredients that help prevent plaque formation, as well as probiotics to help restore microbial balance in the mouth.
Puzzles – Puzzles are great for dogs. I had never thought about using them until I asked my vet what to do for exercise for my puppy who had just broken his leg, and she suggested mental stimulation toys, such as puzzles. Dogs love to sniff and use their noses, and it gives them important mental stimulation and problem-solving skills – they even burn calories (wish I burned calories just by figuring out puzzles!).
My favorite puzzles are:
Nina Ottosson puzzles – Dogs use their paws and noses to flip, spin, or open puzzle pieces to get treats
Kong Wobbler – Treats are dispensed as your dog pushes and rolls the wobbler around.
Outward Hound Hide-a-Squirrel Plush Puzzle – Hide plush squirrel squeaky toys in the tree trunk and watch your dog try to get them out – so fun to watch! My dogs also love to just play fetch with the squirrels. Available in multiple sizes
Snuffle mats – A fun option to beat boredom for your dog, and can also be a good way to slow down fast eaters. Hide treats in the mat and have your dog use their sense of smell to find the treats. You can also hide food to slow down your dog down when eating.