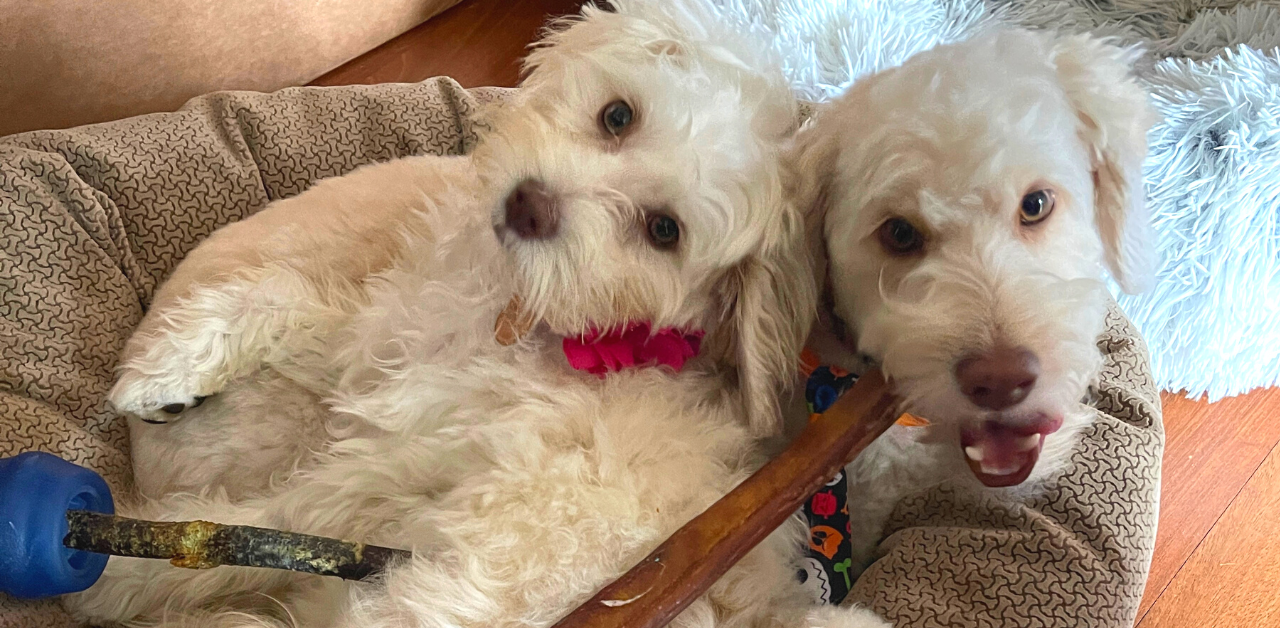 One of the best ways we can celebrate our furry best friends is by keeping them healthy, and one of the ways to do that is to use pet-friendly cleaning products. Just like people, dogs, cats, and other pets can be affected by the cleaning products in our home, and in some ways even more so: by licking their paws after walking on recently cleaned surfaces, absorbing chemicals through their skin by laying on the ground, inhaling harmful fumes, or even by drinking out of toilet bowls!
What's in Your Cleaning Products
It's hard to know exactly what ingredients are in cleaning products. That's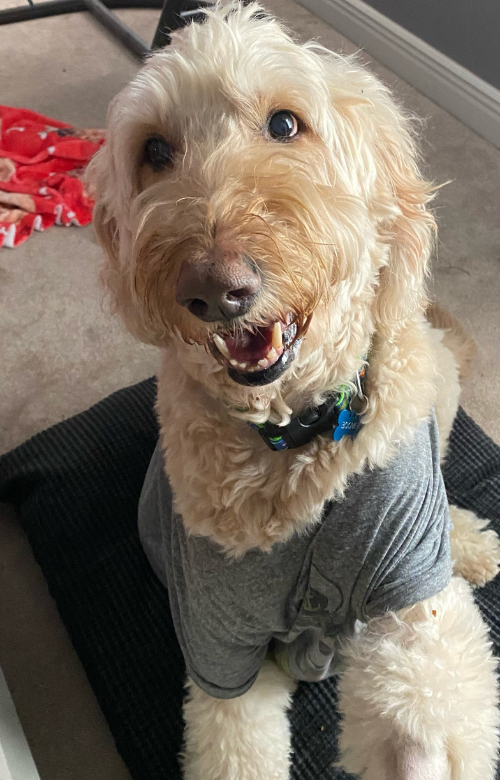 because the EPA requires companies to disclose only active disinfecting ingredients and 'chemicals of known concern' on their product labels. 
The problem with this is that there aren't any testing requirements for most of the chemicals in cleaning products — by the companies themselves or by the EPA. And companies aren't required to disclose individual ingredients, because cleaning product formulations are considered to be proprietary. 
Typically the only time you'll see a full ingredient name is when it's a disinfecting active ingredient, and these are required to be disclosed under "Active Ingredients". Other than that, you may only see general terms, such as "anionic surfactants" or "enzymes." The problem with terms like these is that they don't specifically state which anionic surfactants or enzymes were used. 
Below are some of the common ingredients to beware of in cleaning products, and where they are commonly found. Not all products listed will contain the ingredient (for example, not all toilet bowl cleaners will contain phenol), so it's important to check product labels. If a product label has very general names rather than specific ingredients, sometimes you can go to the manufacturer's website to get more ingredient info.
Common Ingredients to Avoid in Cleaning Products
Ammonia – can cause damage to respiratory system (found in window cleaners and degreasers)
Chlorine Bleach – skin, eye, and throat irritation; corrosive to mucous membranes (found in countertop cleaners/disinfectants and toilet bowl cleaners labeled "With Bleach")
Quaternary Ammonium Compounds – can cause asthma and allergic reactions; can cause severe burns and eye damage (found in disinfecting sprays and wipes, dryer sheets, (these are ingredients such as Benzalkonium Chloride, Dipalmethyl Hydroxyethylammoinum Methosulfate, diethyl Ester Dimethyl Ammonium Chloride, Dialkyl Dimethyl Ammonium Methyl Sulfate).
Fragrance – considered to be a trade secret; individual ingredients are not required to be listed because fragrance is considered to be a trade secret. Can contain ingredients that are allergenic, hormone-disrupting, toxic to the brain and nervous system, or that are cancer-causing.
Phenols – can cause liver and kidney damage; central nervous system depression, and burns on the skin (found in Lysol, Pine Sol, and some toilet bowl cleaners).
Formaldehyde – a known cancer-causer. Some preservatives, known as formaldehyde-releasers, release formaldehyde slowly into a product slowly over time to extend the shelf life. Avoid ingredients such as DMDM hydantoin, Diazolidinyl urea, Imidazolidinyl urea on the label, which are formaldehyde-releasing ingredients.
Pet-Friendly DIY Cleaning Products
It's easy to DIY it when it comes to pet-friendly cleaning products, believe it or not! And most of these "recipes" can be made with ingredients that are probably already in your pantry right now.
Window Cleaner
Using a funnel, pour distilled water into a spray     bottle, approximately halfway. Fill the rest of the bottle with white vinegar. This 50/50 distilled water/vinegar combo is great for cleaning windows and mirrors!
(Conventional store-bought window cleaners can leave behind a waxy film. If you see a film on your glass after using this window spray, simply spray the glass with isopropyl alcohol, wipe it away, then use the DIY window cleaner again.)
Toilet Bowl Cleaner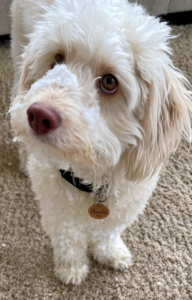 Cleaning your toilet bowl without harsh chemicals is as easy as pouring in white vinegar! Vinegar has some antibacterial properties, but it's also an acid, so it can help break down minor limescale and calcium deposits. I like to pour in about half a bottle (about 8 ounces), let it sit for about an hour, then scrub it and flush.
For tough jobs, pour in the vinegar and let it sit. When you're ready to scrub, generously sprinkle baking soda into the toilet bowl, and watch it fizz and foam! This will help loosen stains and will make scrubbing easier. Scrub, then flush as usual.
Stovetop & Oven Cleaners
These cleaners typically contain chemicals are that are harsh on skin and harmful to the respiratory system. And if you have pets – especially birds – they can be harmed by the fumes from your self-cleaning oven (discover more about the dangers of self-cleaning ovens here).
There is a simpler and safer way to clean stovetops and ovens – it's vinegar and baking soda to the rescue again! Just sprinkle a thin layer of baking soda over the surface, then spray vinegar over it. It will fizz and lift up grimey areas, making it easy to wipe away.
If any baking soda remains behind, simply spray it again with vinegar to make it fizz and easier to wipe away. See this article for more info on how to clean your oven using vinegar and baking soda.
Floor Cleaner
Our pets spend a majority of their time on the floor, so it's especially important to use a non-toxic floor cleaner. This can be as simple as hot water and liquid castile soap in a mop bucket (this one comes highly recommended).
All-Purpose Cleaner
Make a simple all-purpose cleaner the same easy as the floor cleaner – all you need is a liquid castile soap and hot (as warm as you can comfortably get!)
water. Mix water with a few tablespoons of castile soap in a spray bottle, or in a little bowl and wipe counters and other areas with it. 
Just be sure not to use vinegar on stone surfaces such as granite, quartz, or marble, as it can etch.
See "electrolyzed water" below for my favorite all-purpose cleaner that is safe for all water-safe surfaces (and it disinfects!).
Freshen Indoor Air with Baking Soda
Keep your home smelling fresh with baking soda. Baking soda helps absorb odors, meaning that it will actually get odors at the root cause, not just cover them up with artificial scents. To freshen up furniture, pet beds, or carpets, simply sprinkle a very thin layer across the surface, let it sit for anywhere from 30 minutes to overnight, and then vacuum it up. 
Pet-Friendly Cleaning Products
If DIY'ing isn't your thing, there are many great pet-friendly cleaning products available that are just as effective at cleaning up messes but won't harm your furry friend. 
Here are a few of my favorites:
Liquid Castile Soap – This has many helpful uses around the house. Use it with warm water to clean floors, countertops, dishes, walls, floorboards…the list goes on! Just mix a few tablespoons to hot (as tolerated) water. Favorite brands: Vermont Soap or Dr. Bronner's.
Discover more uses and concentrations for cleaning on Vermont Soap's website.
All-Purpose Cleaner – I love Vermont Soap's Liquid Sunshine Spray & Wipe Surface Cleaner.  Not only is it USDA Certified Organic, but it's made with just a few natural and gentle ingredients: saponified organic coconut, olive and jojoba oils, essential oils, organic aloe vera and rosemary extract. It's available through their website.
Window Cleaner – Aunt Fannie's Glass & Window Vinegar Cleaner is a great option, and they have a lot of other safe cleaners, also.
Floor Cleaner – Aunt Fannie's Vinegar Floor Cleaner or Aunt Fannie's Wood Floor Cleaner.
Electrolyzed Water
I saved this for last because it is my FAVORITE, and has completely changed my cleaning. It has also replaced 99% of my cleaners. 
Electrolyzed water is a cleaner that comes from a small countertop device that uses electricity and a capsule of salt, water, & vinegar to turn tap water into a cleaner (sodium hydroxide) AND a disinfectant (hypochlorous acid).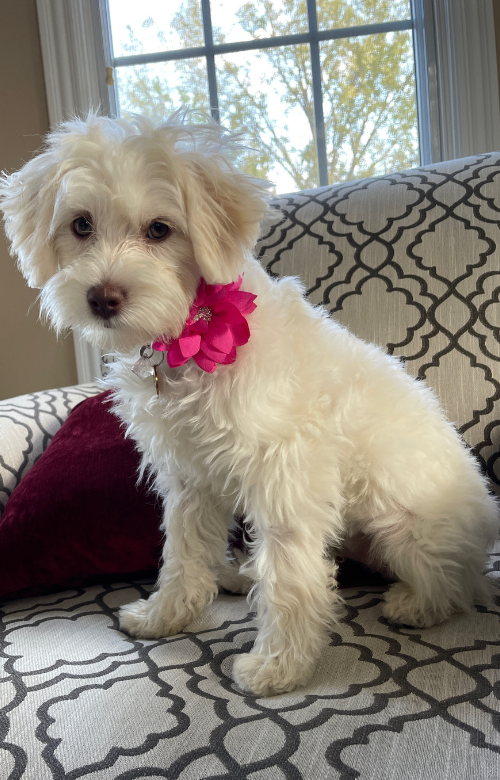 And best of all? It's completely non-toxic, so it's safe for kids and pets, also.
It's on the EPA's List N of disinfectants for use against the Coronavirus, and it's also an EPA-registered disinfectant that kills staph, MRSA, Salmonella, mistrial, viruses, etc. when used as directed. Plus it's registered for use in hospitals, ICUs, schools, daycares, veterinary clinics.
And because it's a cleaner and disinfectant, it cuts down on the amount of cleaners we need. To clean and disinfect, clean the surface first by spraying it and wiping away, then spray the surface again and let it sit for 10 minutes before wiping away. 
It has so many uses – I use it to clean my countertops, bathroom, floors, glass, light switches…you name it! 
Whew – see why it's my favorite cleaner?
There are a few brands out there, but the one I use and recommend is Force of Nature* for its ease of use and storage. Visit their website for a 40% off discount off of bundles.
How to Safely Clean with Pets Around
If using any cleaning products that you are unsure about, keep pets away from the area while you clean, and do not allow them near the area until it's completely dry.
Make sure the area is well-ventilated while cleaning by leaving windows open, if possible.
Now that you know how easy it is to make your home safer with pet-friendly cleaning products, which of these tips are you going to try first? Let me know in the comments below. And as always, happy cleaning!

*This is an affiliate link, meaning that I get a small commission at no additional cost to you, if purchased through this link. I only affiliate with products I personally use and love.