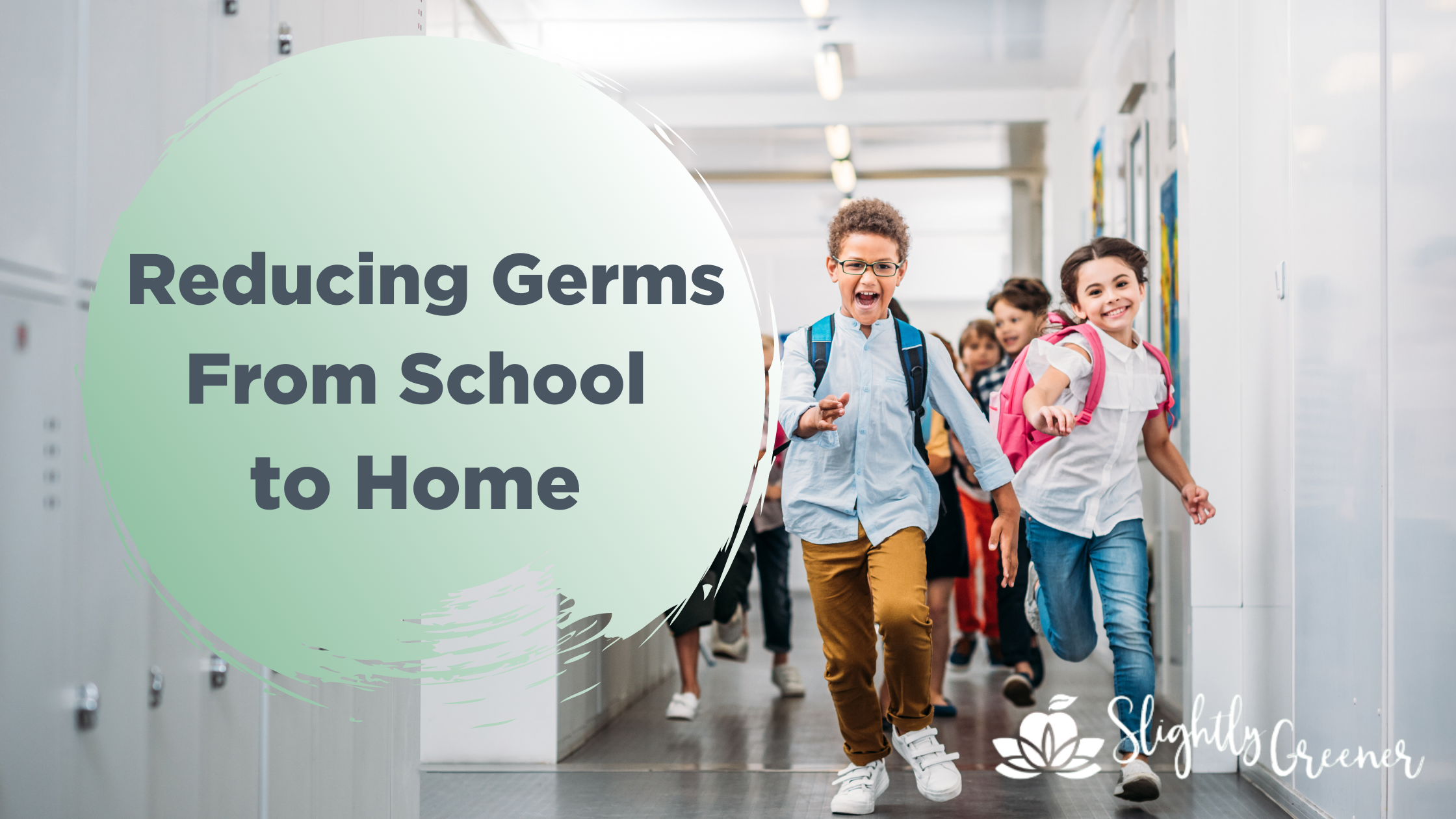 With school starting back up across the country, one thing is on everyone's mind: How can I keep my family from getting sick? Kids are always a little messy, especially when they're young, and there is always the possibility of bringing an illness home (ex: the flu, COVID-19, etc.). But they don't have to bring home a collection of germs and viruses from recess, lunch, or wherever else they end up throughout the school day.
By implementing a few changes to your kids' routine when they come home, you can limit the germs that make their way into your living areas. 
Pick a drop-off area near the entrance of the house
This area will now be where you kids can hang their school items (backpacks, lunch boxes, etc.), leave their shoes, and hang their masks. This prevents the kids from bringing in the dirt and germs collected from the floors of the school and keeps the germs from on their masks at the door. If you want to go the extra mile, make it a phone cleaning station too! You can have your kids leave their phones in a bin where you can then disinfect them with alcohol wipes or have them do it themselves!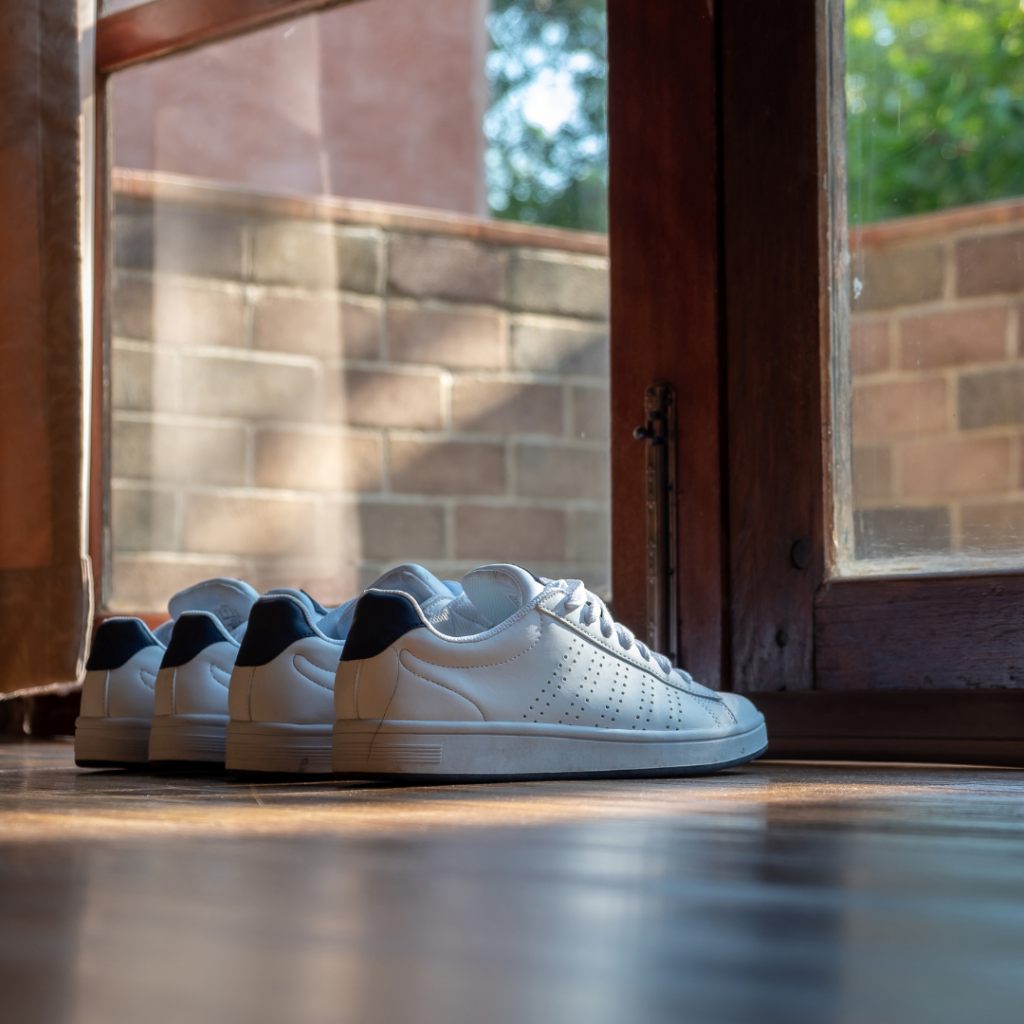 Wash their hands often
This is simple, but it's really effective! Your hands carry all the germs from contaminated objects and other people, so it's best to clean them as soon as possible! Ask your kids to wash their hands for at least 20 seconds with soap and warm water. It's also a good idea to ask them to wash their hands after handling their textbooks or notebooks while doing homework! Better to be safe than sorry!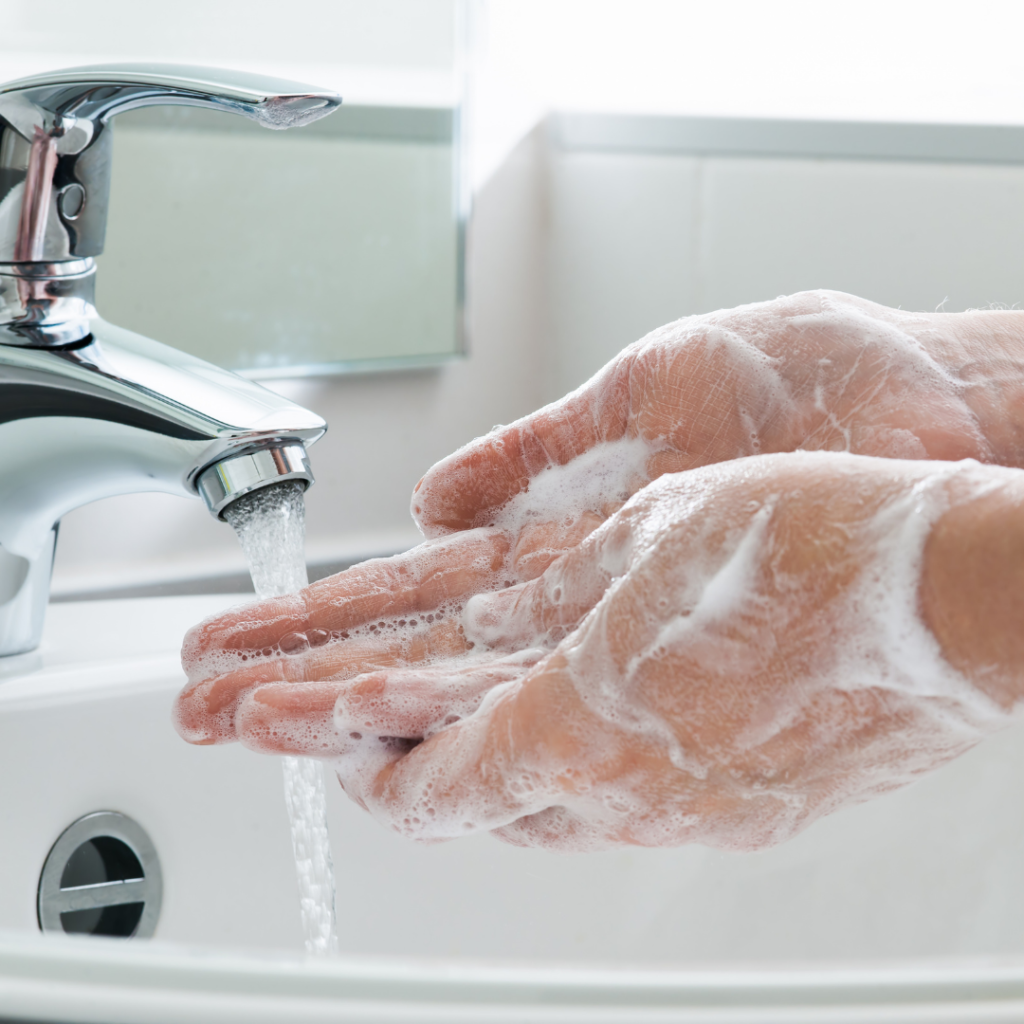 Have a set of pens and pencils exclusively for home use
Many schools have students share their school supplies, often in buckets that they can grab from. In other cases, students have their own pencil case, but they still end up using their friends' supplies or lending their own out!  Those pens and pencils have been exposed to a lot of germs throughout the day and it's best to keep them out of your living areas. Have a set of pens and pencils that your child can use for their homework while at home to make it easier!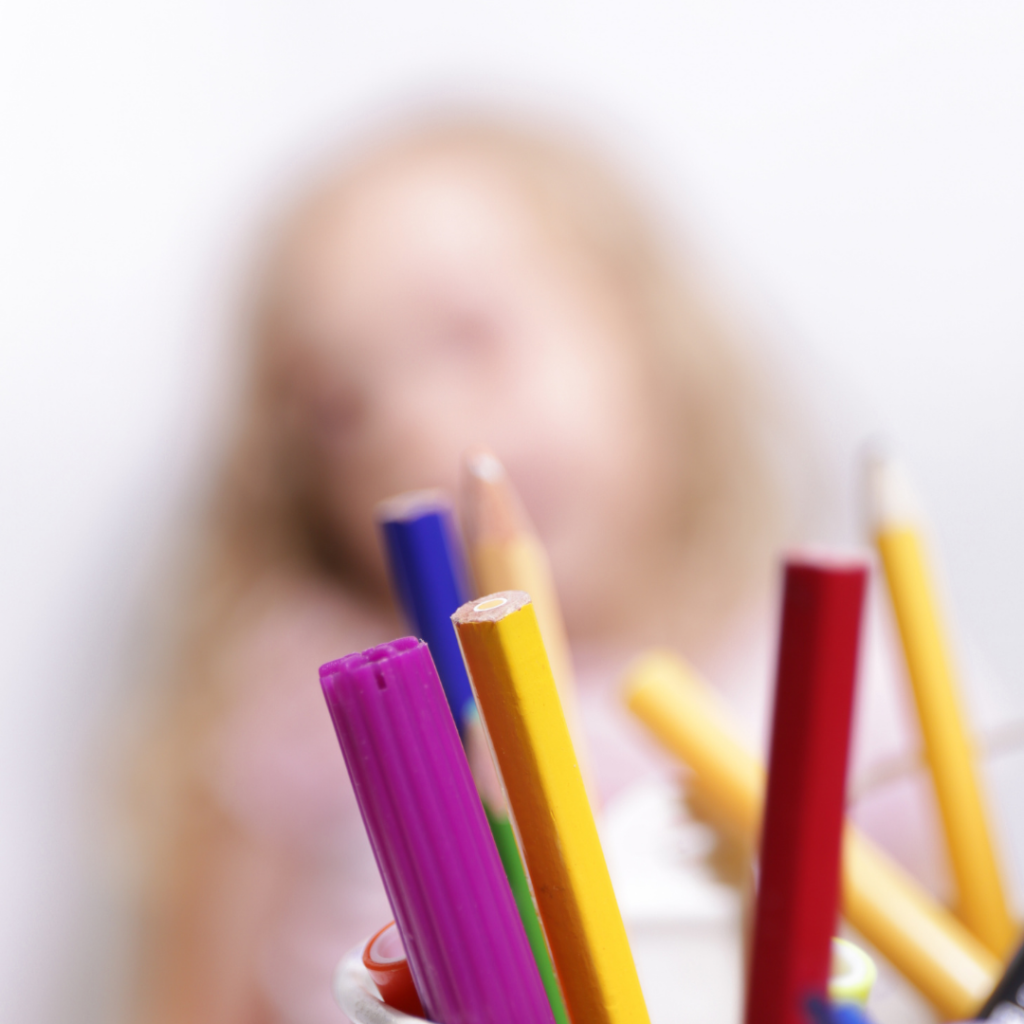 Pick a dedicated study area 
Whether this is a desk, a side table, or even just the dining room table, pick one spot where your kids will do their homework. Here, they can pull out their homework items (papers, notebooks, etc.) and put them back in their backpacks whenever they're done. This way, you'll know exactly where to disinfect once they're done for the night!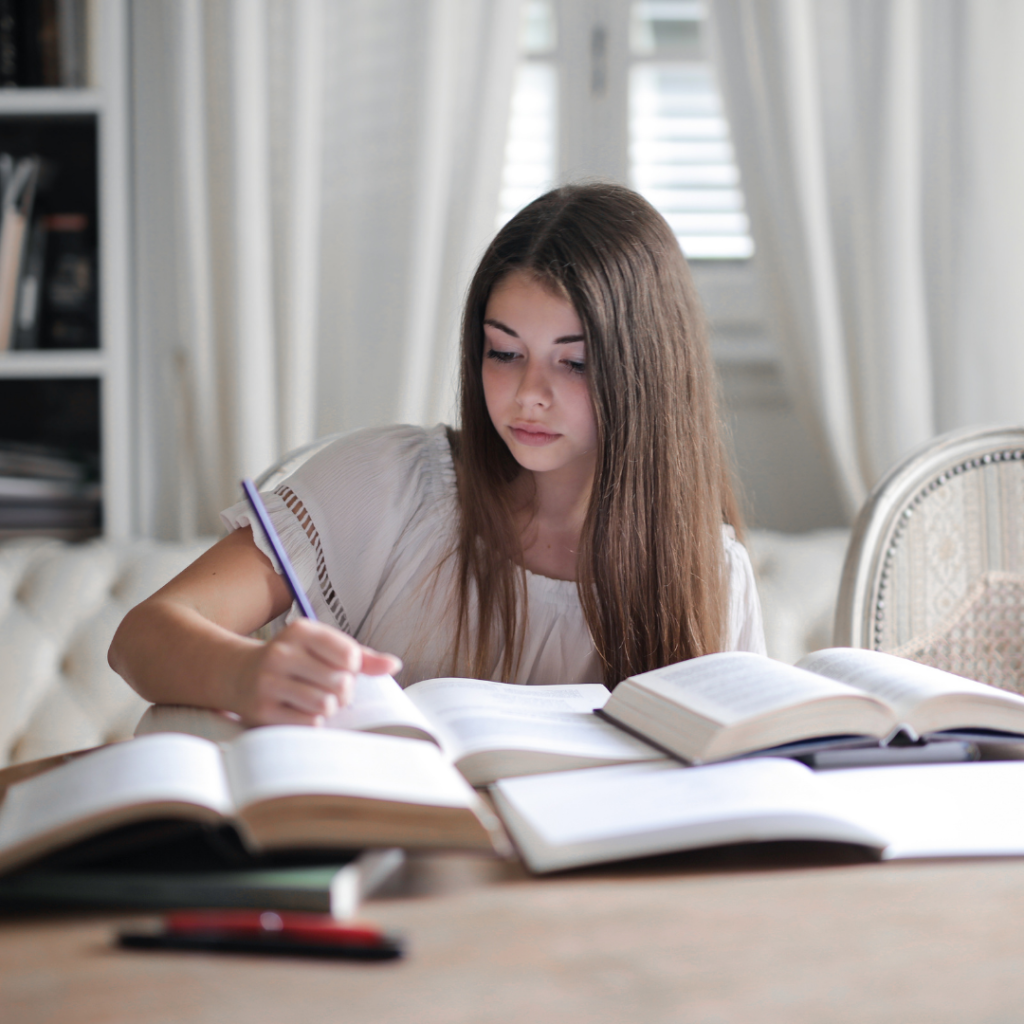 Wash/wipe down school items once a week if possible
Most backpacks and lunchboxes are machine washable, but be sure to check the labels before washing so that you don't ruin the material! If they aren't washer safe, just spray or wipe down these items thoroughly with a disinfectant.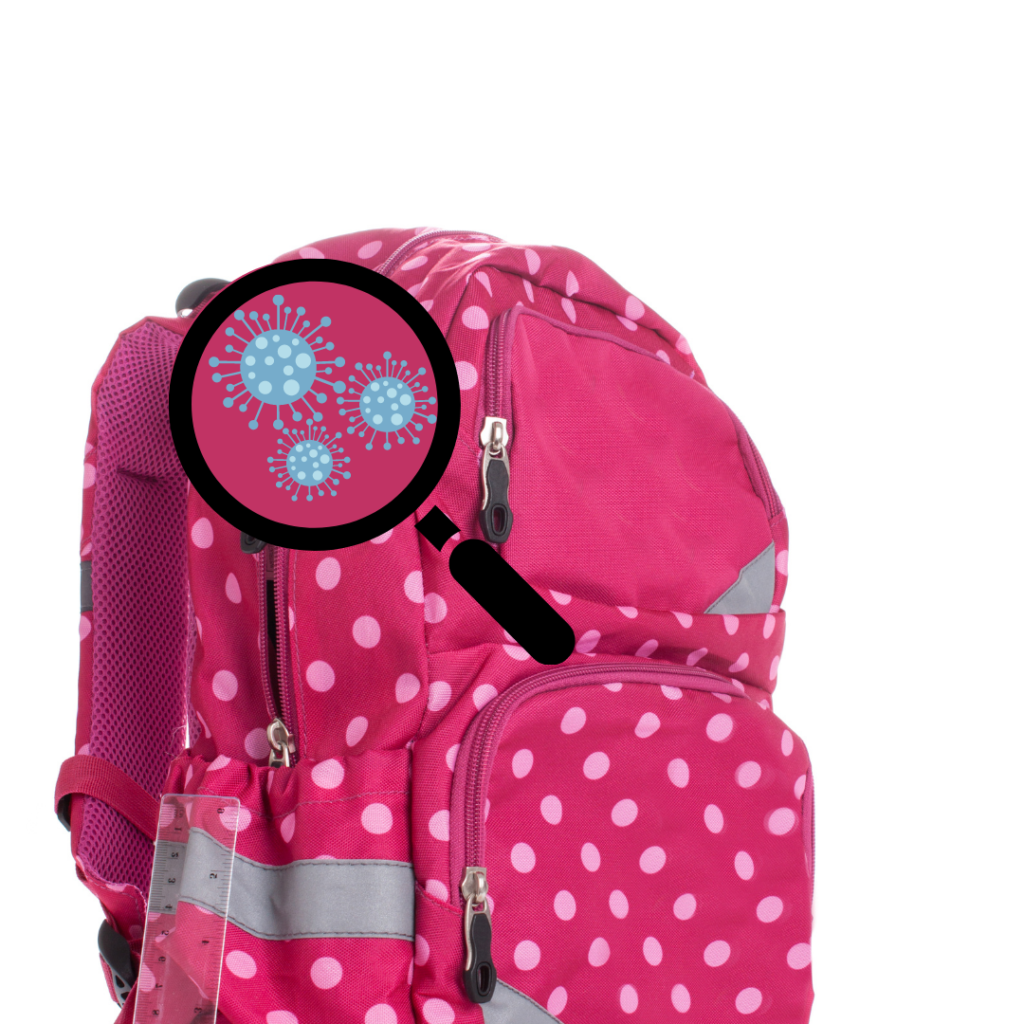 Disinfect masks daily
Most grade schools still require the use of masks in the classroom. That being said, it's important that the kids have a clean mask each day for school. Disposable masks are easy: simply wear one for one day and throw it away once you get home! Reusable cloth masks take a bit more work. These can be thrown in the washer or boiled in water for 5 minutes to disinfect.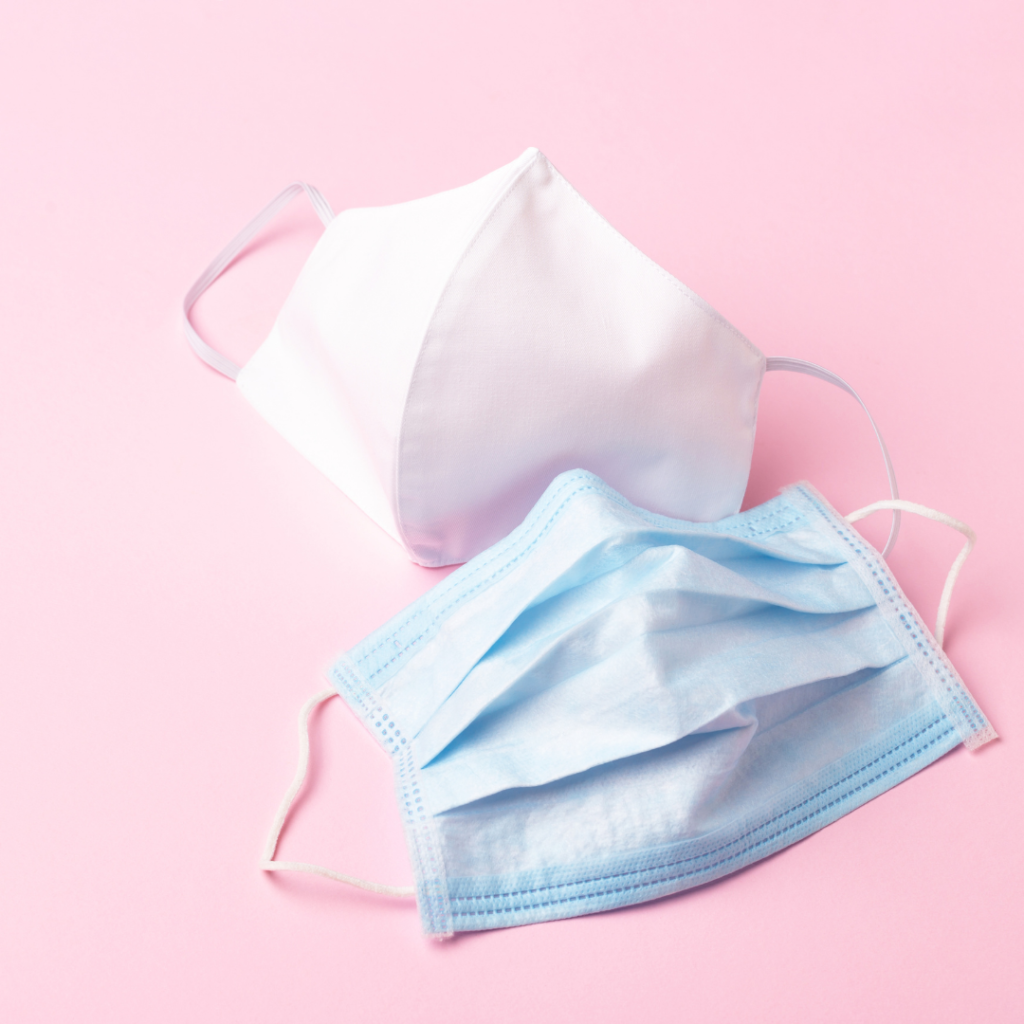 If they do set something from school on a counter or table, clean the area when you move it and disinfect their dedicated homework area daily.
Disinfecting properly takes a couple steps. First, clean before disinfecting. This means using a soap or detergent to scrub away the dirt and grime from these surfaces. Dirt and grime can lessen the effectiveness of disinfectants on a surface, so it's important to clean the area with a multi-purpose cleaner or soap and water. 
After cleaning, spray or wipe the area thoroughly with a disinfectant until it is slightly damp. Make sure to check the instruction label for how long to leave it on the surface before wiping it off.  Disinfectants are regulated by the EPA, and must kill 99.999% of germs, so the area should be safe as soon as you're done! As the pandemic rages on, be sure to use disinfectants that are approved specifically for use against COVID-19, which can be found on the EPA's List N.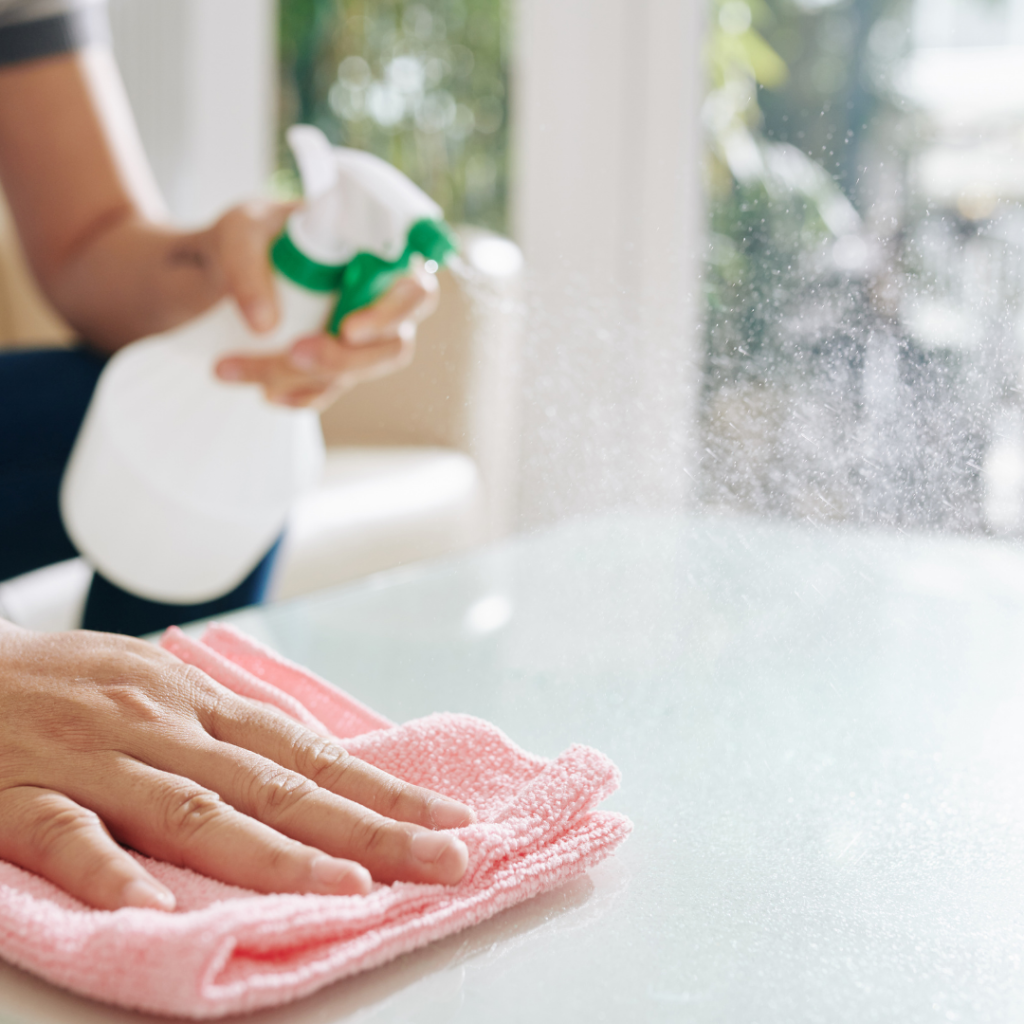 While getting sick is not entirely avoidable, it helps a lot to keep your house germ-free and promote good disinfecting habits for your family!
For more tips on keeping your home clean and toxin-free, grab a copy of The Slightly Greener Method, now available where books are sold!